Diana Freire, PhD student, EMBL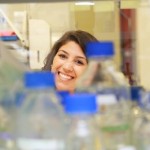 When I was a student I never dreamed that one day I would be a scientist, but here I am! My name is Diana Freire, I am from Portugal and I am doing my PhD in structural biology at one of the world's leading research institutes: European Molecular Biology Laboratory (EMBL).
You may not know but 11 February 2017 marks the second United Nations International Day of Women and Girls in Science, and what better time than now to think about women in science and how we can make an effective and sustainable change to the number of women participating in science. You can learn more about the International Day here.
If you want to pursue a career in science, EMBL is a great place to do it. I have learnt so much here and I am definitely growing as a scientist and also as a person. I have been exposed to many different structural biology methods and had the honour of meeting many exceptional people – all of whom encouraged me to use X-ray crystallography in my study of a novel toxin-antitoxin protein complex from Mycobacterium tuberculosis and to unravel its mechanism of function.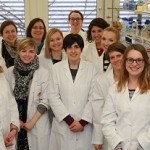 Recently our scientific training and outreach officer Rosemary Wilson @rawilson80 encouraged me to take part in a story for Science News for Students (https://www.sciencenewsforstudents.org/). The article resonated with me immediately: "We need you! Are you a female-identifying person in science, technology, engineering or math (STEM)? We want to see you and hear your voice!". I knew this was something I wanted to be part of. While brainstorming the article, I thought back to why as a student I had never considered a career as a scientist. I came to the conclusion that I had a problem identifying with the images of scientists that I saw in the media at that time – I do not look like them!
Since I was 19 years old, fashion has played a major part of my life. I did a modelling course, took part in several fashion shows and photo shoots, and also participated in two contests to be Miss Portugal. Meanwhile, however, I was also always focused on my studies. At first I hid my fashion activities from everybody at university, afraid of being judged. I felt I had to prove to my (mostly male) professors that I was not only a pretty face. Then, a few years ago, a treatment I was receiving for cancer meant I lost my hair; it also effected the shape of my body. I overcame the cancer, and the best part of it is that I lost the fear of showing everybody who I really am. I was able to be open about what I do and love. Fashion and science: some might think, two opposite worlds that cannot mix.
These thoughts and experience encouraged me to make a video about myself and other female scientists to be shared with everybody but mostly with other women. I wish I could have included even more of these amazing female scientists in it, together with their inspiring stories.
I hope women outside science and especially female students can watch this video and see we are like any other women. Women in science can still have a life inside and outside the laboratory. It is possible to make hard work and dedication compatible with life and still have success in both. Science needs women. So, please, if you are one, believe in your career, be hopeful and pursue your dreams.
Women are not a minority in science any more but we are still under-represented at the highest levels. The reasons for this do not seem to be related to performance but mostly to psychological barriers, peer pressure or even feelings of self-doubt: it is important to develop our self-esteem. The guidelines of this year's United Nations International Day of Women and Girls in Science on the topic "Gender, Science and Sustainable Development: The Impact of Media" highlight the importance of raising the profile of women in science by supporting and inspiring each other.
The general message I want to cover with the video is about life: enjoy it as much as you can. Do what makes you happy, and follow your passions. Fight for your personal and professional goals, and do not let others' opinions put you down. Life is too short and we only live once!